A drone enthusiast always looks for new quadcopter to add to his growing collection. If you are one of them, your ongoing quest is about to yield results.
Holy Stone, a drone manufacturer, has come up with the F181 RC Drone. This quadcopter is a prized addition to all quadcopter collections. It is an aviation tool that will make every flying experience memorable.
4 Channel Transmitter
Body Material: Plastic
Control Mode: 2.4GHZ
Remote Control Battery: 3.7 V 750 mAh
Charging Time: 1h 20 minutes
Suitable for: Ages 14+
Dimensions: 12.2 x 12.2 x 3.7 inches (31 x 31 x 9.4 cm)
Weight: 14 ounces (397g)
This astounding drone comes with a set of features that set it apart from other entry level quadcopters. These features turn novice pilots into professionals.
1. Headless Security System
There is a constant danger of miniature drones becoming lost. The F181 weighs a mere 397g, or 14 ounces, so strong winds may blow it off a pilot's intended flight path. The Headless Security System prevents the quadcopter from flying backwards or veering off course. This savvy, urbane drone never gets lost.
2. Protection Frames
To add, the drone comes with optional protection frames. These protect the drone's propellers, though adding them is not necessary.
3. Four Way Flip
Few entry level quadcopters can surpass the F181 in terms of maneuverability. This drone is able to execute four-way flips. It makes 360 degree turns in all directions. The 4-way flip function allows the drone to roll continuously and execute actions perfectly.
4. Two Batteries
The F181 comes with two 3.7 V, 750 mAh batteries. They make it as powerful than its predecessor, the F180, which uses the same batteries. Holy Stone's latest quadcopter model can stay in the air for a relatively long time.
5. Battery Charger
Charging time is a mere 1 hour and 20 minutes, while it may take up to two and half hours when using other chargers. The drone comes with two USB cable charging cables, so a pilot can charge his quadcopter by connecting it to his computer.
6. 2 Megapixel Camera

The F181 comes with a 720 p, 2 megapixel camera. It allows the drone to capture stunning, high-quality aerial images.
7. 4CH Six Axis Gyro
This quadcopters 4CH Six Axis Gyro system gives the drone stability. It can do clockwise and counterclockwise flips without pilots worrying about it careening out of control.
8. Cylon Ion Headlamp and LED Headlights
The F181 comes with a cylon ion LED headlamp, which is excellent for orientation. Pilots can easily see where it is in the night sky. The flashing red and blue lights make it a spectacular sight at night. To add, it has red and blue head lamps on each of its legs.
9. User-Friendly Transmitter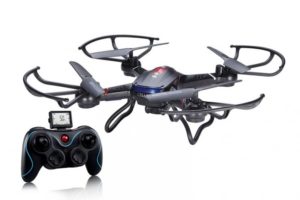 This drone comes with a user-friendly transmitter, which has a small, but clear LCD screen. It operates the quadcopter Headless Security System and makes sure that a pilot always has complete control of his drone.
The transmitter has four tilt rates of 40, 60, 80 and 100 mph. A pilot can control the speed of the drone's pitch and yaw. Hitting the one-key return stops it from advancing too quickly. It gives the drone a powerful range of about 100m (328.1 feet).
The transmitter also comes with adjustable settings. A pilot can control the throttle button's sensitivity. The settings are found on the transmitter's LED display.
10. Replaceable Motor
Holy Stone's thoughtfulness sets it apart from other quadcopter manufacturers. It supplies pilots with a screwdriver for detaching the drone's replaceable motor. Repair is a simple and fast process.
The Holy Stone F181 quadcopter is a dynamic little quadcopter that every owner would be proud to add to his arsenal. New pilots would want to know how best to use it. If you are an F181 user, Quadcopter Arena has helpful advice for you. There is also a handy manual for you to download.
You would enjoy the device's one-key, Headless Security feature, which prevents it from flying off course. The altitude hold function, which enables it to hover in place, is another feature that you would love. What you would relish is that this drone can flip, at 360 degrees, in four ways. It can remain in the air for a relatively long 10 minutes, thanks to its bonus batteries.
Excellent features aside, the F181 has draws that set it apart from other quadcopters in its price range. This mini drone has pleased many users.
1. Ready to Fly
Anyone can fly the drone once you take it out of its box. They attached the landing gear and propeller guards that it came with easily. You can assembly the rotor guards in no time at all.
In addition to a transmitter, 3.7 V LIPO batteries and propeller guards, the F181 comes with four spare propellers, a tiny screwdriver for fixing attachments, two USB cables and a useful instruction manual. This drone also comes with a 2 GB Micro SD card.
All you need to do before flying it is to fit the batteries. The batteries fit easily with the connector. The F181 flies fast, so new pilots will need to practice using it consistently.
2. Good Quality Camera
The 720p, 2 megapixel camera shoots quality aerial photographs. The camera quality is excellent for a drone of its price range.
The LED display on the front of the drone is small, but you are still able to view the real-time footage that they capture clearly.
3. Stable Flight
The 2.4 GHZ motor and 6-axis gyro gives the drone stable flight. Anyone will be able to control it perfectly amid strong winds in the South West of the United States.
The auto-flip feature eases piloting of the drone. Though the drone tends to bounce off the ground once it lands, it flies without interruption once it is up in the air.
The Headless Mode facility also pleases customers. One can recall the drone by simply pushing a button on the transmitter. To add, You can make 25%, 50%, 75% or 100% pitch adjustments using the highly functional transmitter.
4. Easy to Fly
This drone is remarkably easy to fly. New quadcopter users can download flight simulations for free.  It is easy enough for children to fly. Variable pitch ranges allow users to become accustomed to the quadcopter.
The F181 has a long flight range as well. It can travel about 300 m (984.3 feet). Lightweight, it takes off easily.
5. Long Battery Life
The two 3.7 volt batteries give the drone a long battery life. You can fly it for over 10 minutes. This surpasses the recommended flight time of 7 to 9 minutes. To add, they take a mere one and a half hours to recharge.
6. Durability
The F181 has amazing durability for a drone of its price range. A customer mentioned that there was no problem with the drone even after it flew into a clump of pine trees and fell 30 feet to the ground.
Another user remarked that the drone's battery did not dislodge despite hard landings. Its battery is difficult to lose. This drone has a toy-like appearance, but is not flimsy. It is strong and robust for a drone of its size.
7. Wind Resistant
The F181 resists winds of up to 10 mph. The solid structure keeps it steady against powerful breezes.
8. Affordable
At under $100, this drone is inexpensive.The design and quality makes it great value for money.
9. Innovative Design
The exclusive, chic black color of the F181 makes it easy to spot at night. It also comes with LED lights that allow a pilot to find it. Few drones can compare with its stylish yet pragmatic design.
The F181 has excellent draws, but like any quadcopter, pilots have to bear a few considerations in mind when flying it. Being ready to deal with them makes for a better flight experience.
1. Yaw
Note that the F181 has a relatively slow yaw. Its right and left movements are not as fast as other quadcopters, but the adjustable settings more than make up for this. It also makes the quadcopter more controllable for novice pilots.
2. Flip
There is some delay when getting the quadcopter to flip on its side. That said, few entry level quadcopters can do such acrobatics. It allows a pilot to capture aerial images from all perspectives.
3. No GPS
Potential pilots should note that the F181 does not come with GPS location features that will help them track their drones. The Headless security feature, however, allows them to recall their drones and prevents them from being lost.
 

Tips For The Quadcopter
1. Fly in Open Spaces
It is recommend that pilots fly the F181 over open spaces. As its flight path is one-directional, flying it in open spaces makes it less lightly to get caught in trees.
2. Budget
The F181 is a highly affordable quadcopter that is suitable for pilots on a tight budget. With the 720p camera and accessories, they get excellent value for their money.
3. For Beginning Pilots
The F181 makes a suitable entry-level drone. Having said this, experienced pilots will have fun using it to perform aerobatics that will stun their friends.
4. Rest Time
As the motor tends to heat up quickly, it is advisable to give this quadcopter at least an hour's rest between flights. There is no need to constantly replace the motor if pilots give it time to cool.
5. Fly In Less Powerful Winds
Being a entry level quadcopter, the F181 may not hold up to winds that are too gusty. However, it does well in winds up to 10 mph.
6. Do Not Fly Over Open Water
To add, pilots should not fly over open water lest it causes the batteries to rust.
7. Distance From The Ground
Pilots should fly the F181 far enough from the ground so that it can flip, because it has the tendency to bounce off the ground when it lands.