The Hubsan H501S X4 FPV features a 1080P HD camera and FPV transmitter with a 5.8GHz wireless video transmission. The latest 6-axis flight control system keeps this unit stable in flight. Built in GPS and altimeter allow for a wide range of flying features including follow me, return to home, and hold position. It has large 2700mAh Lipo included keeps you in the air for an impressive 19 minutes. With all these features this is the perfect quad rotor to get you into FPV flight.
This is a fast and nimble quadcopter. The screen refresh rate is fast enough to fly first-person view (FPV). Hubsan really does FPV better than any other quad I've flown.
You may already be familiar with Hubsan, one of the top leading low-cost toy drones manufacturer. They have released a broad range of successful drones including this one the H501S X4 brushless quadcopter, a fascinating drone. A great looking quadcopter specifically aimed at the Follow Me feature. It is not common to find drones featuring Follow Me function within this price range. So if you are looking for an affordable Follow Me drone, I'm sure you will be interested in this Hubsan H501S X4. Now, this neat looking quadcopter and its complete FPV package ready to fly out of the box. Also,

Hubsan H501S X4 Material and Design
Hubsan H501S X4 is a relatively small quadcopter, only 22 x 22 x 7cm in size. It is made of a common type of material called ABS Plastic, which is lightweight and durable enough to resist most crashes and hits. Therefore ensuring the drone won't break or bend easily. The Hubsan H501S X4 comes in two different colors versions, gold and black and the other gold and white. As you can see, in the image, it's a neat looking drone, not the typical design that most drones have.
Camera and First Person View Transmission
Hubsan H501S X4 has a built-in 1080p resolution camera. Image quality is good, slightly above average for drones within its price range and no 'jello effect' is displayed. The lens on the camera has a 120º Field of View. The camera can be used for both photographs and recording video, naturally as expected from a drone with Follow Me mode. As already mentioned, the Hubsan H501S X4 comes with a complete First Person View package. The real-time video transmission is done via 5.8 GHz frequency directly to the built-in 4.3" monitor on the remote controller. A complete FPV package with all you need to fly right out of the box, no extra parts necessary. Photographs and recorded video are saved into a Micro-SD card which is placed right into the Hubsan H501S X4.
Features
H501S X4 has a broad set of relevant and useful features. First of all, it comes with an integrated dual GPS global system, meaning it will work everywhere International and is not restricted to an area. The GPS also enables Follow Me mode, and this means the drone will be aware of its position and you, therefore he can follow you autonomously while recording video. This allows the pilot to focus on the camera while the drone flies itself.
The powerfulness of Hubsan H501S X4 doesn't stop here; this drone also features Altitude Hold! A somewhat uncommon feature to find in drones, thanks to this function the drone can maintain altitude by itself, without the need of pilot's throttle input. This enables the pilot to focus on the camera, once again, while the quadcopter hovers efficiently.
As you can see, Hubsan H501S X4 includes vital features that combine greatly with camera usage. Simplifying and enhancing flight.
Besides this amazing features, Hubsan H501S X4 also comes with Headless Mode for easier orientation despite where the front of the quadcopter is pointing. A very useful function for children and beginners.
Also, features One-Key Return, drone returns to the pilot, and Automatic Landing, drone lands by itself. Other standard features are the LED lights for night flights and 360 º aerial stunts with just the push of a button.
Remote Control and Maximum Control Distance
Hubsan H501S X4 comes with a 2.4 GHz remote controller, easy to handle, with built-in FPV monitor, OSD live data, and easy access to all features. Maximum control distance of Hubsan H501S X4 is around 300 meters, depending on flight conditions it can even slightly be longer range.
7.4V 2700mAh Lipo battery and 20 Minutes Flight Time
The Hubsan H01S 5X4 has a fantastic flight time, slightly above average for drone within its price range. All thanks to the 2S 2700mAh LiPo battery with EC2 connector, a somewhat larger than an average battery that powers up to 20 minutes of flight time!
Just imagine the things you can do with it for 20 minutes, all the video you can record and watch in real time. Don't forget that if you wish to push it even further, you can always purchase an extra battery. Just keep in mind that it's important to let the KV1650 PM1806 brushless motors cool off when changing batteries, give it around 5 to 10 minutes before you initiate flight again.
Auto Return Home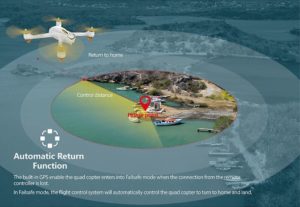 Thanks to a GPS-backed navigation system, the H501S is able to remember its "home," or takeoff, point. If connection is lost with the transmitter, Failsafe Mode will engage, causing the quadcopter to automatically return to the home point and land. You can also manually trigger Failsafe Mode via a switch on the transmitter.
Follow Me Mode
The H501S will lock onto the position of the transmitter and track it. This is extremely beneficial when recording a moving subject that would be tricky to follow manually.
Altitude Mode
In this mode, based on readings from a barometer, the H501S will maintain a fixed altitude. Horizontal movement, as well as rotation (yaw), will still be enabled.
Headless Mode – Intuitive Orientation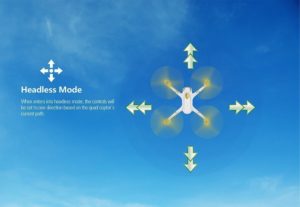 There is no longer a defined "nose" and "tail." Instead, the aircraft always moves relative to the pilot – pressing forward moves forward, pressing left moves left, and so on. This keeps flying more intuitive, especially for beginner pilots.FPV
Transmitter with 4.3″ Screen
On the transmitter, you will find a 4.3 LCD screen that allows you to monitor real-time video from the FPV camera and will display vital flight telemetry data to keep you apprised of what is happening in the air. There is a microSD slot on the transmitter – card not included, allowing you to record the FPV preview. A 5.8 GHz link is used for the video signal, while control operates on 2.4 GHz to avoid cross interference.
Brushless Motors
Brushless motors provide better performance than their brushed counterparts. In addition, propeller attachment is self-tightening for additional security.
Save
Save
Save
Save
Save
Save
Save